Village Preschool & kids
Village Preschool & Kids is an environment where all kids can experience the love of God through the gospel of Jesus. At Village our Preschool (babies- PreK) and kids (Kindergarten - 4th grade) experience safe, age-appropriate environments where they learn about Jesus in a creative and relevant way.
We would love to see you and your family visit Village Kids
Here's what to expect when visiting Village Kids for the first time:
First, ask a greater to lead you to the children's building. There we will meet your family, check your child into our system, and then one of our volunteers will lead your child to their age-appropriate room.
Upon checking in for the first time, we will ask for the following personal information (NOTE: We will not share this information with anyone):
Parent/guardian name(s)
Child's name
Child's birth date
Address
Number
Any special instructions (special needs) for your children
SUNDAY SMALL GROUPS
Sunday Small Groups are for children Babies-6th grade. We meet each Sunday morning.
Babies - 6th Grade
Sundays at 9 am | Bldg. 6
CHILDREN'S CHURCH
Children's Church is for children grades Kindergarten - 3rd Grade. We meet each Sunday morning during the 10 am service.
Kindergarten - 3rd Grade
Sundays at 10 am | Bldg. 6
Good News Club
The Good News Club at Destin Elementary school. This fast-paced, hour and a half program is designed to bring the Gospel of Christ to children on their level in their environment.
When: Tuesdays | 3:15 - 4:45 pm
Who: Kids in Grades K-5th
Where: Destin Elementary
teamkid
TeamKID is designed for Kids in Discipleship! It features Bible memory games and application of Bible truths, engaging missions activities, and fun activity-based learning all while helping your kids grow to be more like Jesus.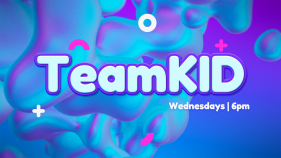 3 yrs - 5th grade
When: Wednesdays
Time: 6 pm - 7:30 pm
Where: Bldg. 6
Kidz Praize
Kidz Praize is an exciting singing, dancing, and signing to song program for kids greades k-5. Passionate leaders, Brooks Patterson and Laurie Hadfield, teach kids how to use their talents, gifts, and abilities to serve God through the arts.
When: Wednesdays beginning Aug. 16
Time: 4:30 pm - 5:45 pm | Wednesdays
Where: Choir Room
Got questions?
If you have further questions concerning our Village Preschool or Kids experience or visiting Village Church with children, simply and get in touch with us!