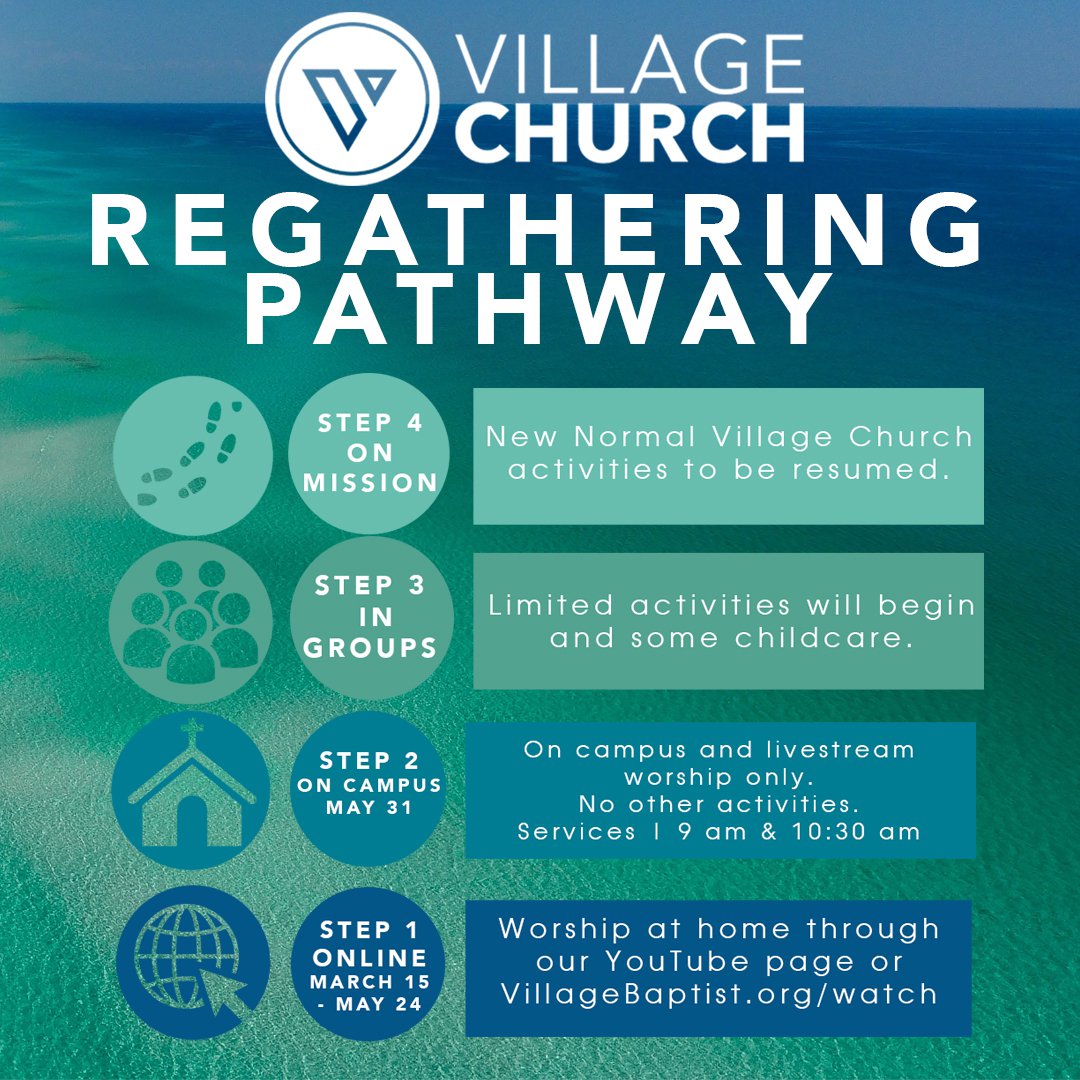 The REGATHERING OF THE CHURCH, is one of the most important events for the people of God. Since March of 2020, we have been on assignment in our neighborhoods and workplaces, and have joined in distantly by way of livestreaming worship. ON MAY 31, VILLAGE WILL REGATHER AT 9 AND 10:30 AM.
Much prayer, thought, discussions with many church leaders has helped as we have developed a strategy to as safely as possible regather. We have four steps for Village Regathering.
STEP ONE
Online worship services
Online Bible studies and groups
STEP TWO
Online worship continues with REGATHERING WORSHIP ON CAMPUS. Village will use social distancing guidelines and will be regularly cleaning the facilities.
REGATHERING for on campus worship
Online worship services
Online Bible studies and groups
If smaller groups (less than 10) decide to meet in-person, we ask they use all recommended guidelines given by officials (e.g., staying six feet away, wearing masks, using hand sanitizer, avoid touching of face, etc.).
In worship, offering plates will not be passed but will be set up at the doors. Communion will be shared but will be done with packaged elements to be picked up by those entering the worship center. Service times will be approximately one hour in order to meet the needs of those livestreaming the worship experience.
STEP THREE
Worship continues as in previous steps but at this point limited small groups will be permitted to gather on the Village Campus.
REGATHERING for on campus worship
Online worship services
Online Bible studies and groups
REGATHERING for small groups (less than 25) on campus
STEP FOUR
At his point Village will operate in a "new normal."
REGATHERING for on campus worship
Online worship services
Online Bible studies and groups
REGATHERING for ALL small groups on campus
Mission Teams form for upcoming opportunities
We will continue to strive for excellence as Village has developed an online community. During these previous months we have seen many join our livestreaming worship from all over the world.
On campus, as the Village is in full stage regathering, our church family will continue being cognizant of maintaining healthy habits. This means hand purifying stations will be kept and maintained, we will ask that if a person has been sick with a fever, cough, sore throat, shortness of breath or have been in contact with a person with COVID-19 in the last two weeks that they refrain from the campus regathering and join in by way of livestream.
Getting to know each other
We know meeting someone for the first time can be intimidating, and going to a new church for the first time can be nerve-racking. We want to help make your first experience at Village Church a great one!
SERVICE TIMES
Our two services are identical in style and content. The environment is energetic with a blend of hymns and contemporary music led by the celebration band and choir.
Sundays at 9:00am | 10:30am
LOCATION & DIRECTIONS
Village Baptist Church is located at 101 Matthew Boulevard in Destin. We are south of Highway 98, one block west of the Destin Commons shopping mall.
101 Matthew Blvd
Destin, FL 32541

What can I expect?
what to expect at village
In total, a Village Church service is about 60 minutes in length. Services begin with the Village Church band leading the church in music - song lyrics are projected onto the screens so you can sing along and/or engage with worship however you feel most comfortable. After the music portion of service is , our pastor will come out to share an encouraging and hope-filled message about Jesus.
On any given Sunday, you may see people in blue jeans, shorts, , and suits. Dress in what you deem appropriate and comfortable. We ask though that you dress modestly.
families
Village is a not just a family friendly place– we LOVE families! We have a place for everyone from babies to senior adults.
Babies through 5 year olds have Preschool during both services, k – 5th grade have Sunday School during the first service and Children's Church during the second service, and 6th grade through high school have Sunday school during the first service and are encouraged to their family in the Worship Center during second service.
While you are here, feel free to ask anyone on our Connect Team for directions or more information.

Let us know you're coming
Ready to check out Village Church in person? We can't wait to meet you in person. Simply fill out the form below and we'll make sure to give you the VIP treatment upon your first visit.